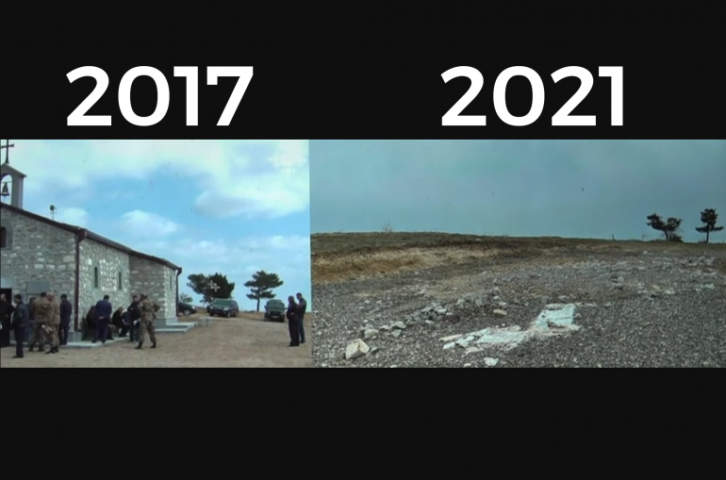 According to a reportage published by the BBC, an Armenian church in territories that have come under Azerbaijan's control has been completely razed to the ground.
The Azerbaijani authorities, occupying the Hadrut region of Artsakh (Nagorno-Karabakh) after the 2020 war,completely destroyed the Armenian Church of St. Mariam Astvatsatsin (Mother Mary) in Mekhakavan (Jabrayil).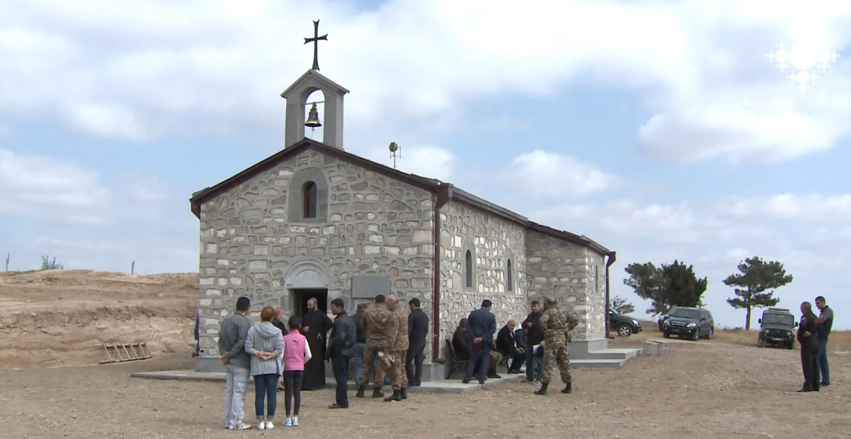 BBC correspondent Jonah Fisher tried to film the church of St. Mariam Astvatsatsin, which was desecrated by the Azerbaijani servicemen and jihadist mercenaries after the occupation. One of them climbed on the church, trying to knock down the cross.
The Azerbaijani policeman accompanying the journalists' team answering to the question where the church was, says that they have no information about the church. Therefore, the British journalist himself, with the help of his smartphone, finds the church location and goes there with the cameraman. However, the hill on which St. Mariam Astvatsatsin Church was supposed to be is empty now. Only stones were still lying on the floor, which are supposedly left from the church.
Jonah Fischer compared the place of the old photo of the church he had, made sure that they are in the same place; the only difference is that the church does not exist anymore.
The journalist again turned to the policeman accompanying them, asking where the church is. The Azerbaijani answered that it could have been destroyed during the war. "It could not be destroyed during the war, because there are videos showing that Azerbaijanis came here", Fischer counters.
Later, during a meeting with Hikmet Hajiev, an adviser to Azerbaijani President Ilham Aliyev in Baku, Fischer showed him a previous photo of the church taken back in 2017 and the current empty hill, noting that the church was completely destroyed. In response, Hajiev only expressed bewilderment, saying that he was not aware about it and the information should be checked.
Church of St. Mariam Astvatsatsin (Mother Mary) before its destruction
The complete destruction of St. Mariam Astvatsatsin church again shows the genocidal attitude of Azerbaijan towards the Armenians and Armenian culture(Cultural genocide).