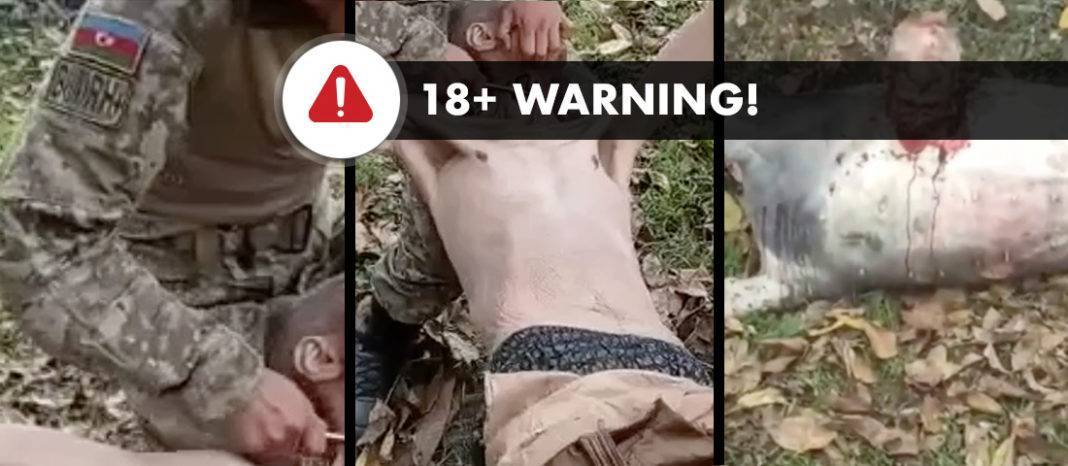 WARNING! GRAPHIC CONTENT
This article includes graphic descriptions of violence, war crimes and murder. Please proceed with caution and practice self-care when reading this article.
In a video that surfaced on Telegram messaging app on November 22, 2020, two men in uniforms consistent with Azerbaijani army standard-issue, hold down and brutally decapitate a 69-year-old Armenian civilian, using an army knife and recording the process on a phone camera. During the whole process, there are at least 5 other identifiable voices, who clap, cheer, whistle & celebrate the event as if watching a football game.
The video showing what happened after the beheading, appeared online first, a few weeks prior to the actual beheading being published on Telegram. Footage from both videos has been combined into the attached video above. The second part of the video shows one of the soldiers placing the severed head on a dead pig nearby to desecrate the victim. The macabre show elicits big doses of laughs, celebration, and photo opportunities for the perpetrators involved.
Screenshots from video:
The following contains footage from both the first and second videos. Warning, the video is EXTREMELY disturbing!
To access the non-blurred version of this and all other videos, you can request access here. Please refer to our restricted content policy for details.
The victim has been identified by fellow village residents as 69-year-old Genadi P., who had moved to the village from Azerbaijan's Sumgait in the 1980s, the city where the first pogroms of Armenians broke out in 1988.
The video is independently verified by Amnesty International & The Guardian.
This horrific killing is believed to have taken place in Madatashen village, in the sector of Nagorno-Karabakh occupied by Azerbaijani troops. The exact date of the incident is not known.