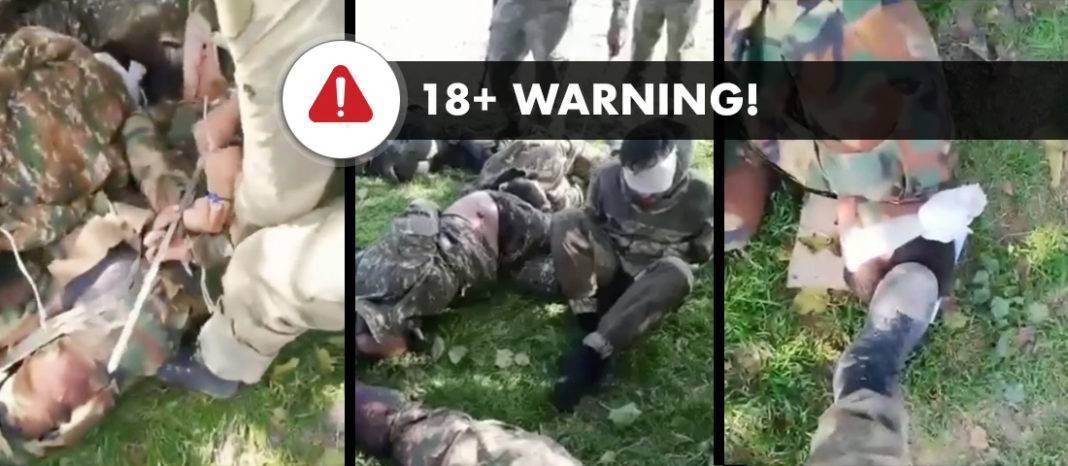 WARNING! GRAPHIC CONTENT
This article includes graphic descriptions of violence, war crimes and murder. Please proceed with caution and practice self-care when reading this article.
On October 25 videos appeared on Azerbaijani-owned channels on Telegram messaging app, that depict brutal torture of several POWs, by Azerbaijani-speaking soldiers in uniforms consistent with Azerbaijan's army uniforms.
Videos depict several Azerbaijani soldiers kicking their heads and bodies, standing on their bodies, stabbing with a sharp metal rod resembling a skewer, dragging, insulting, and humiliating the 8 Armenian captives that are laying on the ground.
Screenshots from video:
To access the non-blurred version of this and all other videos, you can request access here. Please refer to our restricted content policy for details.
Human Rights Watch has verified the footage and has identified some of the captives, with help of their family members. The names are as follows:
Ludvig M., 51, lost contact on October 13, 2020.
Valery H.,
Arman H.
Armen M.
Michael S., 21.
The exact date and location of this footage is not known. These identified POWs were not among the 44 that were returned to Armenia the night of October 14, 2020.