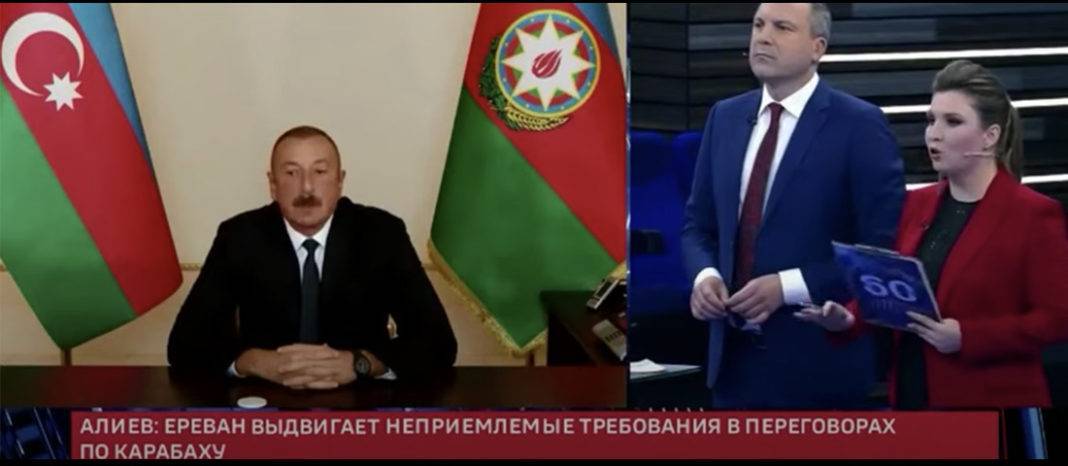 Reports on the movement of Syrian mercenaries from terrorist organizations began to circulate on the web even before Azerbaijan's unprovoked attack on Artsakh Republic on Sep 27, 2020. By the third day of the war, major outlets like The Guardian, Reuters, BBC, and The Jerusalem Post published reports on Turkey's recruitment and transfer of Islamist mercenaries from Syria to Azerbaijan, to fight against Armenians in Artsakh (Nagorno Karabakh). According to the reports, the militants were receiving monetary compensation for their services, effectively being categorized as mercenary combatants.
In addition to a multitude of news reports (listed below), world leaders such as French President Emmanuel Macron and Iranian President Hassan Rouhani, head of the Russian Foreign Intelligence Service Sergey Naryshkin, and others have confirmed they have proof Turkey is recruiting and transferring Syrian mercenaries and terrorists to Azerbaijan (also listed below). In the face of all the overwhelming evidence, the President of Azerbaijan Ilham Aliev continued to deny the undeniable.
Below is a list of news articles and statements of officials in chronological order, confirming the recruitment, presence, and active participation of Islamists mercenaries and terrorists in Azerbaijan's aggression against the people of Artsakh.
September 30 – BBC Arabic (source)
The journalist of the BBC Arabic service was able to speak to one of the "hundreds" of Syrian mercenaries deployed in Azerbaijan. He reported that they were recruited by the commander of the Hamza Division of the Turkish-backed Syrian "National Army" with the promise of $2,000 monthly. The same day, BBC Russia published this article relying, in part, on reports from BBC Arabic and BBC Turkish services and referencing reports by the French L'Express and the British The Guardian.
---
September 30 – The Jerusalem Post (source)
"Turkey has deployed a big number of poor mercenaries from Syria to Azerbaijan to fight against Armenians"
---
September 30 – Ministry of Foreign Affairs of Russia (source)
"militants from illegal armed units are being moved to the Nagorno-Karabakh conflict zone from Syria and Libya to take a direct part in the hostilities. […] We urge the leaders of the interested states to take effective measures to prevent the use of foreign terrorists and mercenaries in the conflict, and we call for their immediate withdrawal from the region."
---
October 1 – Emmanuel Macron, President of France (source)
"We now have information which indicates that Syrian fighters from jihadist groups have (transited) through Gaziantep (southeastern Turkey) to reach the Nagorno-Karabakh theatre of operations,"
---
October 1 – Maria Zakharova, Russian Foreign Ministry Spokesperson (source)
"We do have such evidence. There is such information at our disposal. You are quite right. There were such materials, borrowed from the social networks and corresponding publications, but in the commentary that was uploaded to the Foreign Ministry's website we certainly relied on our own findings, facts and sources,"
---
October 1 – Sky News Arabia (source-Arabic)
Sky News Arabia reported a senior US Department of Defense official confirming the dispatch of "hundreds" of Syrian mercenaries to Azerbaijan by Turkey (also, see this tweet).
---
October 3 – Al Arabiya (source)
"At least 28 pro-Turkish mercenaries have been killed in Nagorno Karabakh conflict zone. They were among more than 850 combatants from pro-Ankara Syrian factions that Turkey has sent to fight for the Azeris since last week, the Syrian Observatory for Human Rights said."
---
October 5 – Der Spiegel (source-German)
Der Spiegel presented evidence about the fact that president Erdogan was sending Syrian mercenaries to Azerbaijan.
---
October 5 – RIA Novosti (РИА Новости) (source-Russian)
Referring to its sources in Syria, RIA Novosti wrote that as of the publishing date, 93 Syrian mercenaries had died in Nagorno Karabakh. According to the same source by October 5, the 3rd batch of mercenaries – 430 militants had been deployed to Azerbaijan.
---
October 5 – Novayagazeta.ru (source-Russian)
The outlet published the names and the recruitment mechanisms through which Syrian mercenaries were sent to fight in Nagorno-Karabakh. According to the Syrian Observatory for human rights, 134 Syrians had been killed in fighting in Nagorno-Karabakh up to that point, 13 of them in the preceding two days. Many Syrian mercenaries had already asked the Turks who hired them to be returned back to Syria, even without payment.
---
October 5 – Fox News (source)
An interview with a Syrian mercenary providing details about the recruitment and deployment of mercenaries to Azerbaijan.
---
October 6 – Sergei Naryshkin, Head of the Russian Foreign Intelligence Service (source)
"We are talking about hundreds and already even thousands of radicals hoping to earn money in a new Karabakh war … We can't not be worried that the South Caucasus is capable of becoming a new launch pad for international terrorist organisations from where militants could later cross into states that neighbour Azerbaijan and Armenia, including Russia,
---
October 7 – Foreign Policy (source)
"The first fighters were transferred in late September to southern Turkey and then flown from Gaziantep to Ankara, before being transferred to Azerbaijan on September 25. According to fighter accounts, SNA commanders arrived earlier to explore the region and coordinate with the Azerbaijani army about the distribution of troops"
---
October 10 – UN Watch (source)
The only UN-accredited NGO that monitors the work of the United Nations, picked up on The Guardian article and called out the UN Secretary-General for not having commented on the situation yet.
---
October 10 – Hassan Rouhani, President of Iran (source)
In a phone call with Russian President Vladimir Putin, Iranian President Hassan Rouhani expressed concern over the presence and activities of some terrorist groups in the Nagorno-Karabakh conflict, stating, "the presence of terrorists could be dangerous for Iran, Russia and the whole region."
---
October 13 – Syrian Observatory for Human Rights (source)
"The Turkish government is preparing over 400 fighters of 'Sultan Murad,' 'Al-Hamzat Division' and other factions in order to transport to Azerbaijan in the next hours and days."
---
October 14 – Valentina Matviyenko, Chairwoman of the Federation Council of the Russian Federation (source)
"Russia, France, and the intelligence services of many other countries have declared that terrorist groups of other states are engaged in the military activities … this is very serious and presents a very serious threat not only for Armenia and Azerbaijan, but also to the entire region."
---
October 14 – Washington Post (source)
"the dead were mercenaries, recruited by Turkish-backed militias in Syria to fight on behalf of Azerbaijan against Armenia, relatives said. They were deployed as shock troops, to claw back scraps of territory in the contested Nagorno-Karabakh enclave."
---
October 19 – The Syrian Observatory for Human Rights (source)
"The Turkish Government has transported a new batch of mercenaries from Syria to Azerbaijan. The total number of Syrian fighters sent to Azerbaijan has risen to at least 2,050."