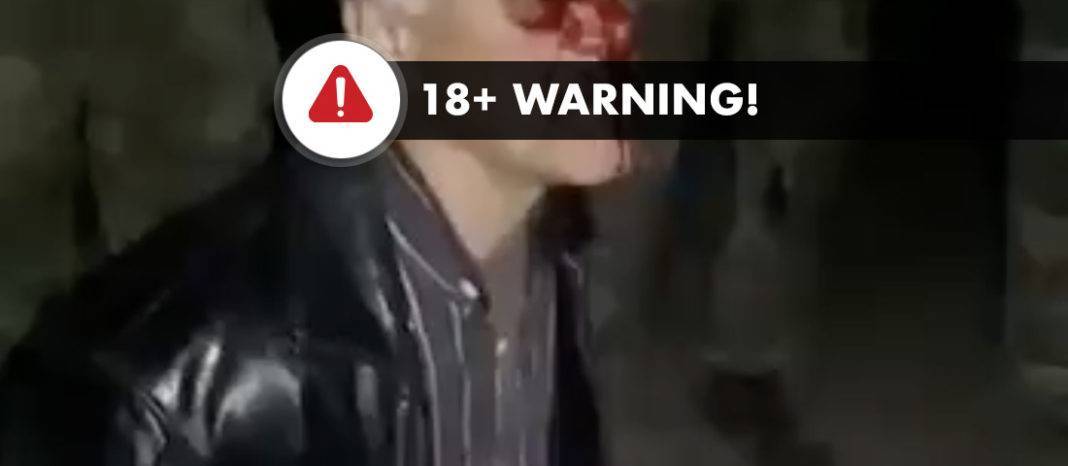 WARNING! GRAPHIC CONTENT
This article includes graphic descriptions of violence, war crimes and murder. Please proceed with caution and practice self-care when reading this article.
On December 4, 2020, a video surfaced on Azerbaijani-owned channels on Telegram messaging app, depicting a brutal interrogation of an Armenian civilian by Azerbaijani soldiers, later identified as Kamo M., a resident of Siznek village in Askeran region of Artsakh (Karabakh). In the cellphone video, Kamo is encircled by a group of armed soldiers of the Azerbaijani army, of whom about five are partially visible in the video. His hands are tied behind his back and his face is already bloodied when the video starts.
To access the non-blurred version of this and all other videos, you can request access here. Please refer to our restricted content policy for details.
"No need, Kill me"

Kamo Manasyan replies to Azerbaijani tormenter offering him life in exchange for information.
The interrogation takes place in what appears to be an open field, in the dark of the evening. The video starts with the main Azerbaijani soldier leading the interrogation, asking Kamo what village he's from. Kamo looks calm but disoriented from the beating that just took place before the recording started. Before he gets a chance to answer, the soldier kicks Kamo in the stomach. Next, the ringleader asks Kamo "How many more are there of you (Armenians) here?", Kamo replies "I don't know? Where? No, I'm alone!". The ringleader turns to the soldier next to him and asks for his gun and racks the slide on the assault rifle and points at the captive's head. Kamo looks at the crowd taunting him, shrugs his shoulders, and says "You want to shoot, then do it". As the interrogation goes on, the Azerbaijani soldier incessantly insults Kamo and repeatedly strikes him on the head with the buttstock of his rifle. At one point the interrogator says" "Where are the rest? Either way, we'll kill all of you! We're are Azerbaijanis, we're Turks, we'll kill all of you jackals! Tell me, and we'll let you live!", to which Kamo replies "No need, kill me". Other Azerbaijani soldiers take turns hitting Kamo from different directions as they mock and torment him.
It's important to notice that the Azerbaijani soldier calls Kamo and all Armenians 'dogs'. It cannot be a coincidence that days before Azerbaijan President Ilham Aliyev made his hateful statement about Armenians saying «We are driving them out like dogs». This clearly indicates that the main reason behind inhuman and violent behavior of Azerbaijani troops is that Armenophobia is state-sponsored in Azerbaijan and hate speech towards Armenians is encouraged on the highest political level.
Kamo was returned from captivity the night of December 14, 2020.