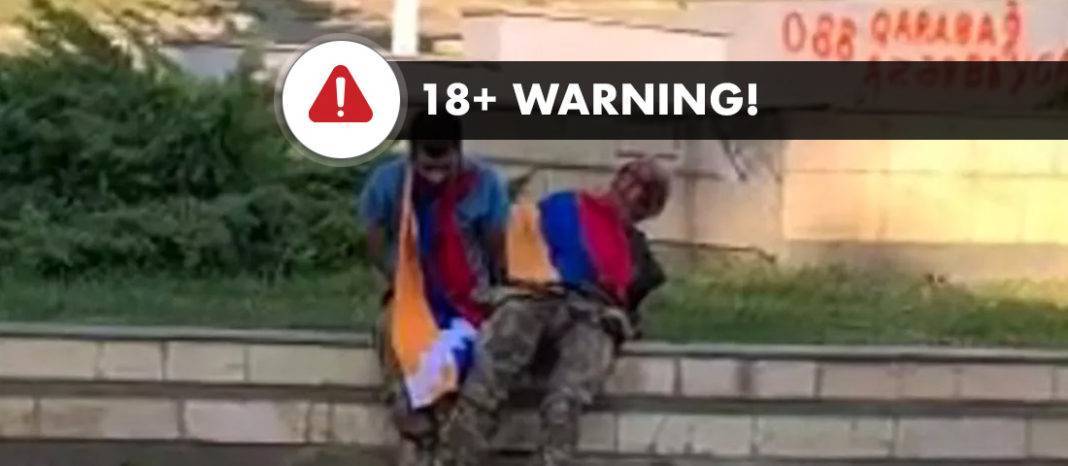 On October 15, two videos began circulating on Azerbaijani Telegram channels. The first video showed the capture of two Armenians by Azerbaijani soldiers. The second video showed the summary execution of what appeared to be the same two Armenian men by Azerbaijani soldiers.
In the first video, it appears that both men are dressed in camouflage, but neither is armed. One of the men is elderly. The men are detained by several Azerbaijani soldiers. The younger man is told to remove his helmet and body armor. Both men are taken down to the ground as arms are drawn onto them. The soldiers speak to the captured men in Russian, with heavy Azerbaijani accents, and speak to each other in Azerbaijani. Armenian authorities have identified the men as Benik Hakobyan, 73, and 25-year-old Yuri Adamyan.
The video has a geolocation of  39.524118, 47.027827 which is in the North edge of Hadrut.  Azerbaijan made initial claims that it captured Hadrut on October 9. Based on shadow analysis, it is likely that the first video was made between October 9 and October 15 at about 14:00. 
The second video shows two people sitting on a wall with their hands tied behind them. The men are draped in Armenian and Nagorno-Karabakh Republic (NKR) flags. Although it is not possible to see the faces of the two people in the second video, they are wearing clothing consistent with the two men seen being detained in video one. Shouting is heard in Azerbaijani ordering to, "Aim at their heads." A series of shots, single shots and automatic fire, can be heard as the men collapse onto the ground.
The second video seems to have been filmed at a park approximately a kilometer away from where the first video was filmed, in the south of Hadrut, at 39.514944, 47.033749. A shadow analysis of the second video, assuming it was taken on October 14, gives a time of 15:11.
Many of these posts were later deleted or replaced with claims from the Azerbaijani Ministry of Defence that the videos were fake. However, according to the Bellingcat Investigative team, there are many factors to suspect the videos are genuine. Bellingcat identified the same locations and time periods for both videos and confirmed that helmets and rifles seen on the soldiers matched those used at least in some instances by Azerbaijani servicemen.
Related Articles:
https://www.bellingcat.com/news/rest-of-world/2020/10/15/an-execution-in-hadrut-karabakh/
https://www.bbc.com/news/world-europe-54645254https://www.youtube.com/watch?v=zkQXy3fG9BY&feature=emb_logo